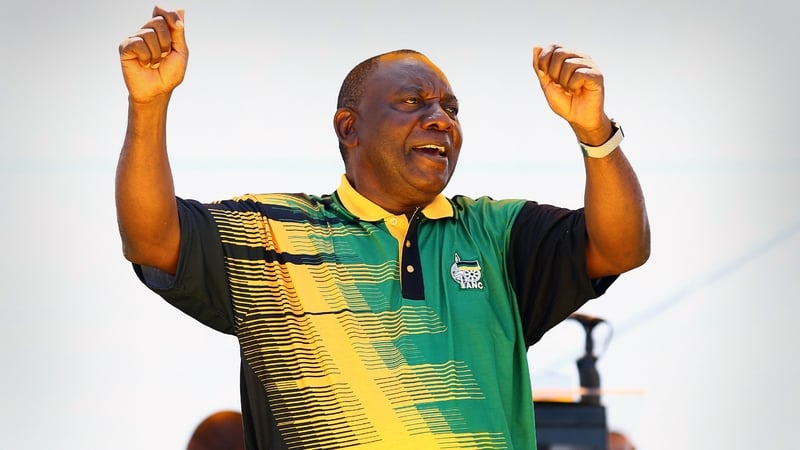 I wrote this article for RTE Brainstorm, where it first appeared on April 20, 2018. The original article is accessible here.
After his predecessor set such low expectations, one could be forgiven for thinking that Cyril Ramaphosa might enjoy an initial honeymoon period as South Africa's new President. Instead, he has been tasked with stewardship of land redistribution, an issue that may prove more incendiary than any that emerged during nine corruption-laden years of Jacob Zuma.
Ramaphosa is probably best known in Ireland as an international observer of the IRA decommissioning process under the Good Friday Agreement, while in his home country he is often cited as Nelson Mandela's first choice of successor as President. A former trade union leader, who subsequently became very wealthy in private industry, he was also one of the lead figures for his party, the ANC, in negotiations to end apartheid.
A central pillar of the negotiated agreement with the apartheid regime was land reform, one of many strategies aimed at righting historical wrongs. In this case, the injustice consisted of forced seizures of land from the indigenous population by white settlers, most of which took place between 1890 and 1910. Subsequent laws passed by white minority governments either highly restricted or completely excluded ownership of land by non-whites.
Since South Africa's democratic elections in 1994, land reform policy has been guided by the principle of 'willing buyer, willing seller'. Under this system, the government purchased property on the market and allocated the land to aspirant farmers or people who could prove historic dispossession.
However, the rate of transfer fell way below expectations. For many, the continued concentration of land ownership in the hands of a white minority is another example of the benefits of majority rule not truly spreading to the majority of people.
As well as bringing land to the top of the government's agenda, general public disillusionment has also aided diversification of the South African political landscape. The Economic Freedom Fighters, a self-described "radical and militant economic emancipation movement" have led the charge for an overhaul of current property rights legislation.
The party has a short but colourful history, founded in 2013 by Julius Malema, a former leader of the ANC Youth League who was expelled in 2012 after being convicted of hate speech. The EFF currently hold 25 of the 400 seats in South Africa's parliament but will likely increase this number in the 2019 elections.
In February, the EFF put forward a motion to amend South Africa's Constitution, often touted as one of the most progressive in the world, to allow expropriation of land without compensation to owners. The ANC, by then under Ramaphosa's leadership and scrambling to halt the bleed of disillusioned supporters, supported the motion.
While that decision established a shared cause between the ANC and its prodigal son, it has been heavily criticised by the main opposition party, the Democratic Alliance. Although the DA also prioritises land reform, it has described expropriation without compensation as 'state sanctioned theft' that would ultimately damage economic growth and development.
For now, it is unclear how land reform will be implemented. Ramaphosa has instructed a committee to review the constitution and report to parliament in August with suggested amendments.
Although the ANC, along with several smaller parties, approved the EFF's motion in February, it will not favour Malema's radical proposal of transferring ownership of all land in South Africa to the state. Ramaphosa, like many ANC politicians, has acquired enormous wealth in business and is fully aware of the generally dim view that investors take of property rights reform.
Neighbouring Zimbabwe provides a recent and calamitous example of such reforms contributing towards state collapse. Ramaphosa has been quick to point out that land expropriation in South Africa will be different, however, and will not involve land invasions, as occurred in Zimbabwe.
The President has also insisted that expropriation will mostly target unused land and be conducted within the confines of the law in a way that advances the rights of every citizen. The EFF is taking a more combative line, with leader Malema due in court in July, charged with inciting his supporters to seize unused land illegally.
South Africa has seen a surge in land invasions in recent months, a further indication of how emotive this issue is for many citizens, particularly among the large numbers living in poverty. Attempted land grabs have occurred in several parts of the country and, in some cases, resulted in violent clashes with police.
Ramaphosa has pleased many South Africans in his first two months as President, purging his cabinet of Zuma cronies and railing against corruption, but observers have characterised these moves as dealing with the low hanging fruit first. The new President has many other complex problems to deal with, not least of which will be winning the support of the 48% of his party who voted for Zuma's ex-wife, Nkosazana, in a tightly contested leadership election last December.
However, few issues in 2018 are likely to cause the new President more headaches than the question of who has rightful ownership of South Africa's land.