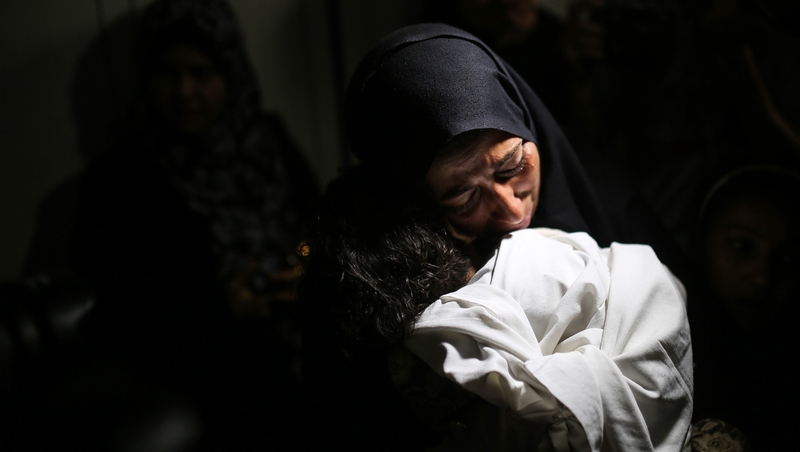 I wrote this article for RTE Brainstorm, where it first appeared on May 18, 2018. The original article is accessible here.
Amidst the shocking footage from the Gaza-Israel border this week, many online observers noted one photograph for its similarity to an iconic image from apartheid-era South Africa. In 1976, 12 year-old Hector Pieterson was shot dead by South African police during the Soweto Uprising, which started as a student protest against the implementation of English and Afrikaans as the languages of instruction in schools. The photograph of a Soweto resident carrying Pieterson's lifeless body was published around the world the next day prompting international condemnation and increased scrutiny of the brutal nature of apartheid.
This week, Agence France-Presse published a picture bearing many similarities to that taken of Pieterson four decades earlier. This time, the victim was a young Palestinian man, whose limp body was being carried by a friend during a deadly crackdown by the Israeli Defense Forces on protests along the Gaza-Israel border. By Wednesday, the Palestinian Health Ministry said 60 Palestinians had been killed at the protests, including an eight-month-old child.
The comparisons drawn between the images from Soweto and Gaza extended beyond the visual similarities and into broader historical parallels between the plight of Palestinians today and non-whites in apartheid South Africa. In recent years, academics, journalists, current heads of state, former US president Jimmy Carter, the UN and even some high ranking Israeli politicians have likened aspects of the country's treatment of the Palestinian people to apartheid.
Amongst the international community, South Africa has been one of the most prominent voices arguing that the apartheid label is applicable to Israeli policy. In January, the South African delegate at the UN Human Rights Council described Israel as "the only state in the world that can be called an apartheid state".
Israeli Apartheid Week, an international event that raises awareness of Israel's treatment of the Palestinians, is marked every year throughout South Africa, with the support and participation of many of the country's politicians and other well-known figures. This week, almost 2,000 people marched on parliament in Cape Town in solidarity with Palestine, as South Africa recalled its ambassador to Israel.
The Israeli government describes the apartheid accusations as deplorable, baseless and politicised. Every aspect of the Israel-Palestine conflict is politicised, and both sides have their share of "deplorables", but the claim of the analogy being without basis struggles to withstand scrutiny. Two distinct points of comparison across the cases – the denial of rights to property and freedom of movement – are particularly illuminating.
A fundamental element of South African apartheid, which continues to haunt the state today, was land dispossession. Forced property seizures and subsequent laws highly restricted or completely excluded non-whites from land ownership.
Land dispossession also plays a central role in the Israel-Palestine conflict. This week's protests in Gaza marked 70 years since the Nakba (or "catastrophe"), when over 700,000 Palestinians were expelled from their homeland to make way for the new state of Israel. Towns and villages were renamed or destroyed and the vast majority of those who fled were never allowed return.
The majority of people living in Gaza today are refugees as a result of the Nakba. Similar dispossession of Palestinians continues today. In 2016, Israeli authorities demolished or seized 1,093 Palestinian homes in the West Bank, displacing over 1,600 people, half of whom were children.
Comparisons can also be drawn between apartheid's pass laws, which restricted non-whites' movement outside of designated Bantustans, and Palestinians' right to move freely today. Palestinians living in the West Bank are forbidden from driving on certain roads and are subject to hundreds of roadblocks and checkpoints, many of which operate in violation of international law.
However, denial of freedom of movement has far more dire consequences in Gaza. At 41km long and 6-12km wide with a population of 1.9 million people, Gaza has been described by humanitarian agencies as the "world's largest open-air prison". Residents have been denied access to vital services and to the rest of the world since 2007 by an Israeli blockade that contravenes international law. Due to security restrictions, 35 percent of the arable land in Gaza is inaccessible to farmers and 85 percent of the waters along its coast are blocked off to fishermen.
This snapshot of Palestinian human rights violations certainly calls to mind some of the many ills of apartheid. However, there are also important differences. For one, Israel does not practice "petty" apartheid meaning there are no segregated restaurants, public bathrooms or buses.
Perhaps, in fact, the comparisons with South Africa are unhelpful. One people's experience of oppression could never perfectly replicate that of another, and defenders of Israeli policy towards the Palestinians do tend to view historical differences as proof that the analogy is baseless. Some Israeli critics also caution against the comparison, arguing that life in the occupied territories is worse than under apartheid and it is better to focus on the reality there today than historical analogies.
However, apartheid is a legal concept, independent of its history in South Africa. The International Criminal Court's definition is an institutionalised regime of systematic oppression and domination by one racial group over another. In 2017, four Palestinian human rights groups asked the ICC to investigate several Israeli officials for a number of crimes against humanity, including apartheid.
For now though, the legal route holds little promise for the Palestinians, as Israel is not a party to the ICC. Out of the 148 states in attendance at the UN diplomatic conference held to establish the Court in 1998, Israel was one of seven to vote against the Statute. The basis for Israel's opposition was the inclusion, among the list of war crimes, of the act of government transferal of populations into occupied territories.